Minister & Staff
Minister: Rev. Dr. Steven Gaines
The Rev. Dr. Steven T. Gaines (they/he) became our minister on January 1, 2022.
They previously served in ministry for more than two decades. Most recently he was an interim minister in the Southwest Region of the Christian Church (Disciples of Christ). Before that, they served as an associate minister for a community church in Memphis, Tennessee, and directed a multi-campus, ecumenical, interfaith college ministry in Spartanburg, South Carolina. Now he is a member of the Unitarian Universalist Ministers Association.
Dr. Gaines holds degrees in communication and ministry from Abilene Christian University, a Master of Divinity degree from Harding School of Theology, and a PhD from the University of Memphis with a research focus in communication, religion, race, and gender. They have written on those topics for newspapers, magazines, blogs, scholarly journals, and an encyclopedia. He has taught communication and world religions as a college professor.
Rev. Steven also enjoys parenting, hiking, running, cooking, and watching movies and is active in social justice efforts.
Administrator: Fawn Smith
Fawn has been UUFF's Administrator since May of 2011! She came to the fellowship with decades of office experience gained from working in various fields of industry – including Construction, Hospitality (Dude Ranches in CO!), Corporate (yes, she has done the "squiggly" many times – only some of you will get that), and of course Church – at both regional and individual organization levels.
Fawn earned a BBA in Healthcare Management from Harding University (a private Church of Christ University in Searcy, AR) in 2001 and is beyond grateful to have found a life path that plopped her down in the midst of this beautiful liberal Religious Community that is so very different from that in which she was raised. Fawn is a child of nature, having grown up on the family's 40 acre homestead deep in the wilds of Arkansas. She is passionate about protecting and respecting nature, life-long learning, and advocating for those who need it most.
Music Director: Renée Janski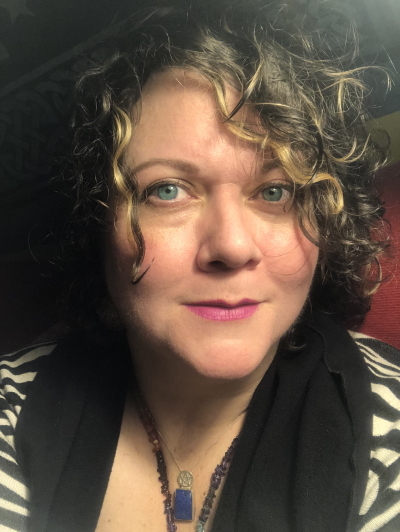 Renée Janski can not remember life without singing and music. She began playing piano at the age of four, and joined her school orchestra in sixth grade. She has been in love with music her entire life.
She earned her degree in Opera from UCA. Janski has performed operatic and oratorio pieces internationally and played nationally with various rock, bluegrass and jazz ensembles, like Big Bad Gina. Her rollicking shows are hilarious and thoughtful and keep her audiences thoroughly entertained!
Janski has owned her own music studio for 25 years. She teaches piano, bass, and voice, and has had many students that have gone on to have major musical careers. Janski loves teaching and hopes to keep doing so for many years.
Janski has been serving churches since 1991 and serving UUFF since 2007. She loves her Spiritual home, job and family at UUFF so much!
Janski, who practices Paganism and Buddhism and is a yogi, has an active spiritual life and believes that it has a huge influence on her. Her Roma ethnicity also plays a huge role in her musical and personal style. She resides in Fayetteville with her wife, RJ. Renée and RJ have 5 grown children and one beautiful grandbaby, Annabelle – who are so supportive and the loves of their lives, and they count their close friends as family and love them to the moon and back. Renée loves Razorback gymnastics, British comedy, gardening and creating art.
And she hopes to get to know you better.
Accompanist: Jori Costello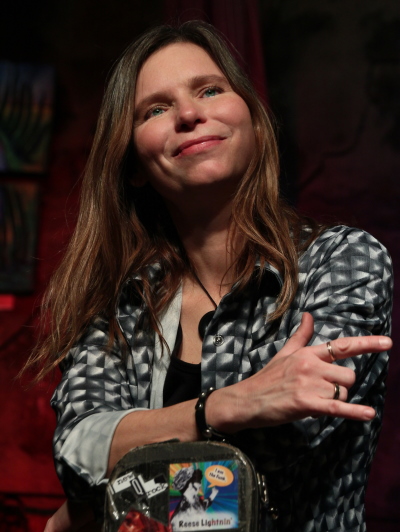 Jori Costello is a singer-songwriter, performer, teaching artist, and radio host. In the 4th decade of her music career, she has been in several bands and choirs, a solo artist, a dance DJ, festival emcee, stage manager, music director, co-producer, and is now delving into her lifelong love of acting.
She is well known for her part in the nationally touring band Big Bad Gina with Renée Janski and Melodie Griffis and for her musical collaborations with singer-songwriter, Ginger Doss and actor/director, Jules Taylor. Jori's one woman musical tribute, Songs of My Soul, has been featured at 6 women's festivals and produced by Willow Productions in K.C. MO.
As a teacher, Jori offers private lessons in multiple instruments, leads group ukulele instruction at various festivals and camps, created music programs for youth camps, and has been a session staffer at Girls Rock Camp Madison with the intention of creating a similar program in Fayetteville, AR.
She became involved with UUFF through the Fayetteville Goddess Festival in 2008, where she first met music director, Renée Janski. Since then, Jori has been a special guest many times over before becoming a member and Song Leader during 2020. She is able to choose songs that are meaningful and inspirational whether from the hymnals, women's community, pagan chants, or originals and now considers UUFF her spiritual home.
Jori's women's radio show, Go Sistah Go, airs Fridays at 3pm on Fayetteville community radio, KPSQ-LP 97.3FM and www.kpsq.org
Accompanist: Brenda Parker
Brenda Parker has been teaching piano since she was a teenager. She studied piano with Reginald Gerig at Wheaton College and with Frances Renzi at the University of Toledo. She has been certified to teach in all seven levels of Suzuki piano. Brenda has been an accompanist at many churches throughout her life, but filling that role at UUFF has been her favorite gig ever.
---
Board of Directors
President: Joe Euculano
Past President: Burnetta Hinterthuer
President-Elect: Joanna Person-Michener
Treasurer: Elizabeth Hancock
Member at large: Mike McMullin
Member at large: Ronda Jean ("RJ")
Member at large: Steve Krogull